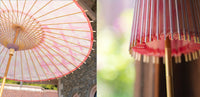 A Japanese umbrella from Gifu City that feels the warmth of the creator
The color of Japanese paper, with its delicate thread-like texture, when the color is opened the moment it opens.
Bamboo lines that are dignified when closed.
Gifu boasts the No. 1 share of Japanese umbrella production in Japan and is a Japanese umbrella producer that has competed in craftsmanship.
A craftsman works on one Japanese umbrella for two months or more to create it.
VIEW MORE
Wagasa CASA | Gifu Japanese umbrella select shop | Beautiful authentic Japanese umbrellas made in Japan
It can be used for wedding ceremonies,
shooting at Shichigosan(a festival for children), etc.,
as well as for everyday use.
We propose the possibilities of Japanese umbrellas
and traditional lifestyles.