【A portable Japanese umbrella bag that can be used in 3 ways: a tanning bag that can be hung on the arm.

Store the head of the Japanese umbrella so that the upper handle is on the bottom.す。
(There is a wooden part on the head called Rokuro, which is necessary for opening and closing, and if you put your head down, you may get wet with rain and the tree may rot, so be sure to put your head up.

Both snake-eye umbrellas and number umbrellas can be used。
Since the zipper is fully opened from bottom to top, it is easy to dry if you open it and dry it after use.
Uses campus fabric that is easy to hold casually。
There is a blue-green kiiro in different colors of the chuck


◆Size Length 80 Width Thickest part 13 Handle length Approximately 75㎝
*Since the handle string is not adjustable, it may not be possible to lick it depending on the body shape.

◆Material Polyester 65 Cotton 35 Water repellent finish

◆Washable It is recommended to apply a waterproof spray as the water repellent effect will diminish after washing several times.ます。

◆Sewing Gifu City, Gifu Prefecture市


【about shipping cost】
Letter pack light will be shipped for 370 yen. You cannot specify the date and time because it is a post-in.
If you order with an umbrella, it cannot be bundled, so we will ship the umbrella bag separately by letter pack light. In that case, it will be a shipping service.
If you order with a circled dot umbrella, it will be shipped together.


All Gifu Japanese umbrellas are carefully made one by one by the hands of craftsmen.
It takes over two months to make one Japanese umbrella.
Japanese umbrellas, which are said to be ``open as flowers, closed as bamboo'', are traditional Japanese crafts that are filled with the skill of craftsmen and attention to detail.
Each Japanese umbrella is created through numerous production processes that last over two months.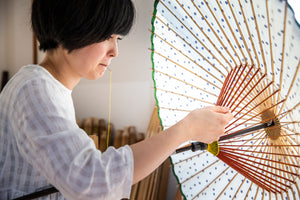 The thoughtfulness of craftsmen and traditional techniques create delicate beauty.
The framework of a Japanese umbrella is made from a piece of bamboo that is split evenly and assembled so that when the umbrella is folded, it returns to its original shape.
The moment you open it, the colors of the Japanese paper and the delicate threads create a beautiful shadow that surrounds the person holding it.
All of these are the only Japanese umbrellas in the world, created through the painstaking work of craftsmen.
Search for other products