[Mino handmade washi paper with Itoshiro indigo dye 2022]

The shades of indigo dye are beautiful. The ultimate Nagara River basin product.
A special collaboration of Mino handmade Japanese paper dyed with indigo grown in Ishitohaku, Gifu, and made into a Japanese umbrella.
This is one of the five limited-edition Janome umbrellas for this season.
The organic pattern is reminiscent of scenes related to rivers.
Stones on the riverside, the surface of the river, the sparkling surface of the water...
The transparent overlapping patterns are like glass, and the never-ending patterns that overturn the image of indigo-dyeing are inspiring.
The pattern and rokuro are finished in genuine lacquer by the only rokuro craftsman, Mr. Nagaya.
The more you use this product, the more it will become more beautiful.
Wagasa cannot be made from scratch by a single craftsman.
This Wagasa was made by many craftsmen, each of them has their own hard work, ingenuity, and thoughtfulness, and the beauty of the existence itself seems to show it.
Mino handmade Washi: Terada Washi Studio, Terada Yukiyo
Indigo Dyeing: Ishitubashi Yohin Ten 
Wiping lacquer (handle, rocro): Kazuo Nagaya, Nagaya Woodworks
Wagasa umbrella: Miki Tanaka, Takahashi Wagasa

Specifications
Length of umbrella: approx. 60cm
Diameter: approx. 106 cm
Total length (including handle): approx. 74 cm
Number of bones: 44
Weight: approx. 460g
<Only one available.
This product is also available in stores, so there is a possibility that it will be sold out by mistake.
In that case, there is a possibility that we will contact you to cancel your purchase even if you have completed the purchase procedure. Please understand this in advance.
Contact: info@teshigoto.casa [Contact: Kawaguchi].
All Gifu Japanese umbrellas are carefully made one by one by the hands of craftsmen.
It takes over two months to make one Japanese umbrella.
Japanese umbrellas, which are said to be ``open as flowers, closed as bamboo'', are traditional Japanese crafts that are filled with the skill of craftsmen and attention to detail.
Each Japanese umbrella is created through numerous production processes that last over two months.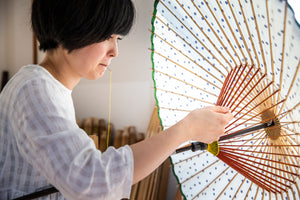 The thoughtfulness of craftsmen and traditional techniques create delicate beauty.
The framework of a Japanese umbrella is made from a piece of bamboo that is split evenly and assembled so that when the umbrella is folded, it returns to its original shape.
The moment you open it, the colors of the Japanese paper and the delicate threads create a beautiful shadow that surrounds the person holding it.
All of these are the only Japanese umbrellas in the world, created through the painstaking work of craftsmen.
Search for other products