A special umbrella called Ajiro, which has a beautiful expression on the eaves because two eaves threads intersect.
Beautiful colorful Japanese paper shines like an auroraき。
If you look through the light, it will look different and you can feel the fibers of Japanese paper. Please look up under the clear sky.
The handle is screw-type and removable, so it can be carried compactly.

【specification】
◆Umbrella length about 48 cm
◆Diameter about 86 cm
◆Approximately 78 cm including the full length handlecm
◆40 bones
◆Handle Sakura is removable
◆Produced by Takahashi Wakasa Store Miki Tanaka

<Only one point>
All Gifu Japanese umbrellas are carefully made one by one by the hands of craftsmen.
It takes over two months to make one Japanese umbrella.
Japanese umbrellas, which are said to be ``open as flowers, closed as bamboo'', are traditional Japanese crafts that are filled with the skill of craftsmen and attention to detail.
Each Japanese umbrella is created through numerous production processes that last over two months.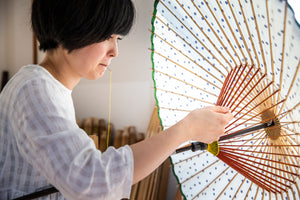 The thoughtfulness of craftsmen and traditional techniques create delicate beauty.
The framework of a Japanese umbrella is made from a piece of bamboo that is split evenly and assembled so that when the umbrella is folded, it returns to its original shape.
The moment you open it, the colors of the Japanese paper and the delicate threads create a beautiful shadow that surrounds the person holding it.
All of these are the only Japanese umbrellas in the world, created through the painstaking work of craftsmen.
Search for other products