【Now accepting build-to-order manufacturing】
Sakurawa umbrella that became a hot topic on SNS。
The Sakurawa umbrella was made in January 2019 to give to Emily Blunt, who starred in the movie Mary Poppins, but it was made in a new original with different colors.オリジナルで製作!
The cherry blossom type is a shape that requires a lot of skill and effort, and it is a one-of-a-kind Japanese umbrella that uses three types of Mino handmade Japanese paper on the surface in the image of Japanese cherry blossoms.傘です。

Please note that future orders will be shipped after March 2021.せ。

For order details, please contact Kawaguchi in charge of Japanese umbrella CASAinfo@teshigoto.casaせください。

◇Specifications Mino handmade Japanese paper double-layered umbrella日傘)
    Diameter about 95㎝
    Total length about 78㎝
    Umbrella length about 51㎝
    40 bones
    Weight about 285g There are individual differencesり)
◇Production: Mikiko Kawai子
All Gifu Japanese umbrellas are carefully made one by one by the hands of craftsmen.
It takes over two months to make one Japanese umbrella.
Japanese umbrellas, which are said to be ``open as flowers, closed as bamboo'', are traditional Japanese crafts that are filled with the skill of craftsmen and attention to detail.
Each Japanese umbrella is created through numerous production processes that last over two months.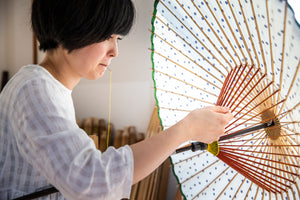 The thoughtfulness of craftsmen and traditional techniques create delicate beauty.
The framework of a Japanese umbrella is made from a piece of bamboo that is split evenly and assembled so that when the umbrella is folded, it returns to its original shape.
The moment you open it, the colors of the Japanese paper and the delicate threads create a beautiful shadow that surrounds the person holding it.
All of these are the only Japanese umbrellas in the world, created through the painstaking work of craftsmen.
Search for other products