This is a parasol made of two different layers of Japanese paper, called double-layered paper.
The front is made of white Mino handmade washi paper from Kozoshi Kobo. The inside is made of Japanese paper that has been rubbed and wrinkled. The light blue shading gives it a cool feel. The transparency of the Japanese paper makes the pattern stand out and is beautiful.

The handle and potter's wheel are finished with wipe lacquer (cashew lacquer), giving it a tasteful wood grain texture.
The surface of the umbrella rib is characterized by a glossy green-toned navy blue paint (cashew lacquer).

【specification】
◆Umbrella length approximately 48cm
◆Diameter approx. 84cm
◆Total length (including handle) approx. 75cm
◆Number of bones: 40 ◆Handle cannot be removed

<Limited to 1 item>
All Gifu Japanese umbrellas are carefully made one by one by the hands of craftsmen.
It takes over two months to make one Japanese umbrella.
Japanese umbrellas, which are said to be ``open as flowers, closed as bamboo'', are traditional Japanese crafts that are filled with the skill of craftsmen and attention to detail.
Each Japanese umbrella is created through numerous production processes that last over two months.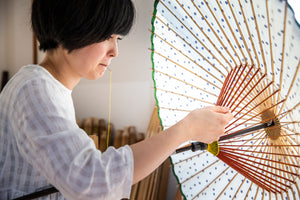 The thoughtfulness of craftsmen and traditional techniques create delicate beauty.
The framework of a Japanese umbrella is made from a piece of bamboo that is split evenly and assembled so that when the umbrella is folded, it returns to its original shape.
The moment you open it, the colors of the Japanese paper and the delicate threads create a beautiful shadow that surrounds the person holding it.
All of these are the only Japanese umbrellas in the world, created through the painstaking work of craftsmen.
Search for other products