Although it is small, the construction, materials, and craftsmanship are exactly the same as the real thing!
We use washi paper from [Itoshiro Indigo Dyeing Japanese Umbrella], which is made for a limited time every year.

It's fun to see the shades of indigo.

This size is just so cute.
Like the parasol, it is made of washi paper that has not been oiled, so please be careful not to get it wet.
It opens and closes, so it will be delivered closed.

◆Mino handmade Japanese paper: Terada Washi Kobo, Yukiyo Terada ◆Indigo dyeing: Namiho Takaoka, Itoshiro Clothes Store ◆Handle, potter's wheel: Kazuo Nagaya, Nagaya Woodworks ◆Japanese umbrella production: Miki Tanaka, Takahashi Wagasa Store

【specification】
●Umbrella length approximately 21cm
●Diameter approximately 37cm
- Total length (including handle) approximately 28cm
●Number of bones: 24 ●Weight: approx. 75g
*Boxed

<Limited to 1 item>

*Since it is also available in stores, there is a possibility that it will be sold out due to incorrect placement.
In that case, we may contact you to cancel your purchase even if you complete the purchase procedure. Thank you for your understanding.
■Contact: info@teshigoto.casa [Person in charge: Kawaguchi]
All Gifu Japanese umbrellas are carefully made one by one by the hands of craftsmen.
It takes over two months to make one Japanese umbrella.
Japanese umbrellas, which are said to be ``open as flowers, closed as bamboo'', are traditional Japanese crafts that are filled with the skill of craftsmen and attention to detail.
Each Japanese umbrella is created through numerous production processes that last over two months.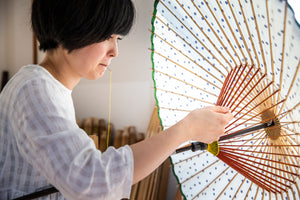 The thoughtfulness of craftsmen and traditional techniques create delicate beauty.
The framework of a Japanese umbrella is made from a piece of bamboo that is split evenly and assembled so that when the umbrella is folded, it returns to its original shape.
The moment you open it, the colors of the Japanese paper and the delicate threads create a beautiful shadow that surrounds the person holding it.
All of these are the only Japanese umbrellas in the world, created through the painstaking work of craftsmen.
Search for other products