A carrying bag that makes it easy to carry a parasol.
Mino handmade Japanese paper craftsman Yuki Matsuo'sJapanese paper was squeezed and dyed by Arimatsu Shibori tie-dye craftsman Aya Osuga.
Only Mino handmade Japanese paper, which is very durable, can be squeezed.
The lining uses cloth.
Yuki Matsuo and Aya OsugaTokai 3 prefectures young female craftsman group "Rinku』Members.9 peopleFemale craftsmen who inherit traditional crafts express the world of traditional crafts with feminine and supple sensibilities.


Parasols come in a variety of sizes, but any parasol sold by the Japanese umbrella CASA will fit.

All are limited to 3 items.
① Winding / blue 
② Winding / red 
③ Armor step / gray
④ Tesuji black / light blue  
 

◆ Size: Length 54 cm x Width 12 cm, handle string length about 31 cm (total length about 67.5 cm including the handle)
◆ Material: (Front) Mino handmade Japanese paper, (Back) Cotton, Polyester
◆ Sewing: SU MISURA (Gifu City, Gifu Prefecture)
◆ Cannot be washed


【about shipping cost】
We will ship by letter pack light [370 yen]. (* Because it is a post-in, you cannot specify the date and time.)
If you order with a Japanese umbrella, it will be shipped together.
All Gifu Japanese umbrellas are carefully made one by one by the hands of craftsmen.
It takes over two months to make one Japanese umbrella.
Japanese umbrellas, which are said to be ``open as flowers, closed as bamboo'', are traditional Japanese crafts that are filled with the skill of craftsmen and attention to detail.
Each Japanese umbrella is created through numerous production processes that last over two months.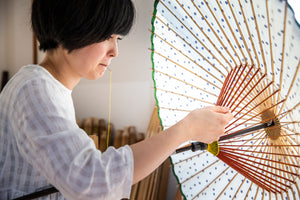 The thoughtfulness of craftsmen and traditional techniques create delicate beauty.
The framework of a Japanese umbrella is made from a piece of bamboo that is split evenly and assembled so that when the umbrella is folded, it returns to its original shape.
The moment you open it, the colors of the Japanese paper and the delicate threads create a beautiful shadow that surrounds the person holding it.
All of these are the only Japanese umbrellas in the world, created through the painstaking work of craftsmen.
Search for other products